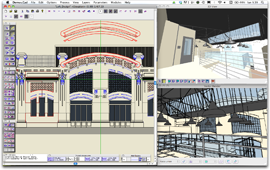 You can immediately begin to create three-dimensional elements without needing to start from a two-dimensional plan. Elements such as walls, floors, roofs, and stairs are created from the onset in their full three-dimensional form. Watch the 3D model change in real time as you design in plan.

Domus.Cad's strong 3D capabilities are matched by its equally impressive array of 2D CAD tools. This makes it just as easy to produce a full set of presentation and construction documents as it is to create the architectural model itself.
Domus.Cad Program Features - design and modeling of architecture, interiors, landscape, and urban spaces
Domus.Cad is a program for architectural 3D design which allows you to face 3D design with the same simplicity as a traditional 2D design, and with the same simplicity allows you not only to design but to plan an entire project directly on your computer. The new version is a program with exclusive characteristics that has nothing to fear from any other 3D architectural design program on the market. Domus.Cad is the right CAD for architects and civil engineers.



Hundreds of images of Domus.Cad projects


Projects gallery from emme-erre Studio


From modeling to photo montage. Testimonial with images and renderings.


Interactive architectural design. Testimonial with images and renderings....a 3D CAD program so intuitive and simple to use that it won me over immediately."Arch. Lino Ceruti





If you would like to see what a Tuscan architect did with Domus.Cad and Strata 3D (rendering program), take a look at Mr Batistini's little 'picture gallery'




In Italian, but not to worry – it's very easy to find your way around this mainly visual website. Lots of images of domestic and industrial architecture achieved with Interstudio software. No problem guessing how the Quicktime VR movie works or how to enlarge the images by clicking on them

Crazy Parameters
How to deal with the crazy parameters of the 'Old World' buildings.
Some Useful Advice for Experienced CAD Users
A list of "things to look for" specifically aimed at those with experience using other CAD programs.
Solutions
Solutions for Architecture and Landscape Architecture