| | | |
| --- | --- | --- |
| | Geo-Tec B | Slope verification |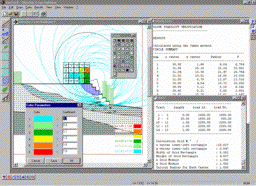 Geo-Tec B allows the verification of stratified slopes in the presence of water beds and loads.
Work begins by inserting geotechnical parameters with Geo-Tec A or other methods. Following phases involve the definition of slope and strata geometry using the mouse. Circular or polygonal slide surfaces can be inserted and modified using the mouse. Geo-Tec B can automatically calculate a series of circles through an interpolation between two selected extreme circles.
Geo-Tec B calculates the safety coefficient for each surface using Janbu, Bishop and Fellenius methods and graphically identifies that having the lowest coefficient as the critical surface.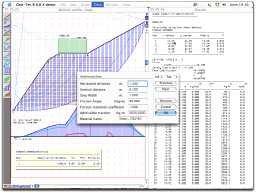 Strata dimensions are defined by the user but Geo-Tec B is able to perfect dimensions according to the theoretic foundations of the adopted method.
Geo-Tec B also allows an immediate verification for seismic zones using a pseudo-static method.
When using the Janbu calculation method, it is possible to apply an external force to the slope. This force is considered an increase in the resisting force (stabilizing) and not a decrease in the pushing (destabilizing) force.

Geo-Tec B conforms to Macintosh and Windows standards by allowing importation and exportation of text and graphics using Copy and Paste and Publish and Subscribe. Graphics can be printed or plotted directly on HPGL and DMPL language plotters.
GEO TEC B simplifies a goetechnician's most complex calculations by reducing them to a series of very simple operations. It produces a large number of safety coefficients from which GEO TEC B selects the most important one, allowing an almost statistic verification very different from that produced manually or with other programs.

Biggest novelty is its support of Reinforced Earth, i.e. slopes stabilized and reinforced with synthetic geo-grids. This is an increasingly popular technology, easy to apply, good technical results even in tricky cases – and a low environmental impact.

Another key addition is the accurate, incorporated function for dealing with immersed slopes, whether in static conditions or with simulated fast draining.