| | | |
| --- | --- | --- |
| | Domus.Cad Pro | Full functions, Time Limited Free download |
If there are any problems downloading, please contact us by e-mail and we can arrange to have the materials sent in other ways.
Recommended System Software
Windows XP/Vista/7/8 or later
Remember, you need a password to install the program. Interstudio will send it to the e-mail on the registration form. If you didn't fill it before, do it now.
Macintosh version: This download is for Windows. To download Domus.Cad Pro for Macintosh click here.
Downloads

OS

Description

MB

Win XP/Vista/
7/8

Domus.Cad Pro for Windows XP/Vista. It contains the program, plug-ins, object libraries, Help guide with Manual, Getting Started manual, examples and other support files. January 7th, 2013
Domus.Cad Home Page


DomusCad Home Page


Domus.Cad Support page


Domus.Cad Support Page- with tips, tricks and FAQs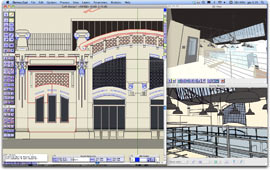 All CADs seem the same, but there is one that is more similar than the others and at the same time very different. It's similar because it has all the same tools as even the most complete CAD, and different, very different, because it has exclusive functions and tools that promise to revolutionize todays designing methods.
Architectural CAD for Architectural design, 3D modeling and rendering.


Architectural photogrammetry and mapping
Read about DigiCad 3D and
download a free trial demo from the
DigiCad 3D product page.

Support page
with tips, tricks and FAQs