HighRoad is a software package that lets you design roads as you always have - graphically. It makes use of the proven graphical interface of modern operating systems so you can use the program immediately without learning complicated commands or special formulae. You don't need to be a computer expert to use HighRoad - its icons and graphics make it intuitive and quick to use.
Road design is fast and interactive with HighRoad. Even complex design elements such as intersections and cul-de-sacs are automatically created for you. HighRoad's proven "embedded intelligence" ensures that these elements remain synchronised as you make adjustments to your design. While it has a great amount of intelligence built in, HighRoad also provides you with the flexibility to override its decisions when necessary.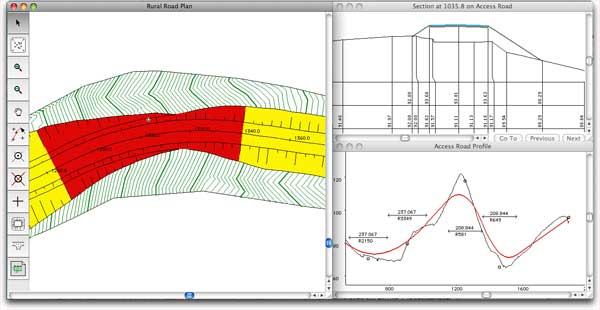 The elegant interface of HighRoad means that it can be used for a variety of civil engineering tasks. As well as road design for subdivisions, highway planning, highway relocation, haul roads, and widenings, it has also been used for drainage channels, pipelines, retention basins, conveyor routes, open cut mines, race courses, airport runways, and so on.
Drawing layout and production is simplified by the drawing manager and tracking of construction projects streamlined by the ability to calculate earthworks for progress claims. Building pad design broadens the capability of HighRoad without compromising its ease of use.
HighRoad was designed from the start to be used by road designers without any computer experience. It has been designed by a civil engineer, Chris Baker, with extensive road design experience, and continues to evolve in response to suggestions from users around the world.
Design roads as you always have - graphically. HighRoad - Creative Engineering's advanced road design software - uses a fully integrated graphical interface tailored for civil engineers. The program's highly intuitive design means you can pick up HighRoad immediately without being a computer expert or learning complicated commands. HighRoad's interface combined with its built-in intelligence results in fast and interactive road design that produces results quickly.
Developed by a road design engineer for road designers, HighRoad uses familiar civil engineering terms, tools and graphics. Instead of using lines and groups of lines to construct roads on screen, you design with intelligent objects such as kerbs, cross sections, pavements and batter slopes.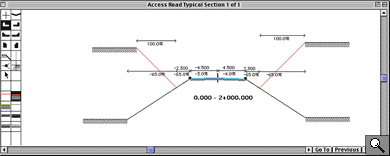 HighRoad is specially tailored to the way a road designer works - both graphically with long sections, cross sections and plans, and numerically for precise matching of design specifications. This flexibility is possible due to the immense development that has been invested into getting the user interface just right for its users.
HighRoad has been designed from the start with a graphical user interface. This interface design is fully integrated into its architecture, making HighRoad fast and compact. You can also expect consistency with the same techniques in different views within HighRoad, and consistency between reality and the road model that HighRoad lets you create.
Take a quantum leap in productivity through HighRoad's optimised design. Its time-saving interactive design, fast computation, embedded intelligence and reusable libraries take hours off your road designing - so you can use your creativity without letting the engineering weigh you down.
Fast algorithms together with automatic design functions make design fast and easy. Adjust any of your designs and all coordinates and chainages are automatically recalculated. Your geometric calculations are done for you while you are free to think about the broader design considerations - you are not distracted by the detail.
Quick to learn, easy to come back to
No time to attend week-long training sessions or hours poring over manuals? Only two per cent of our customers have had any formal training in how to use HighRoad. When you have a road design task, HighRoad allows you to get on with the job rather than grapple with the software.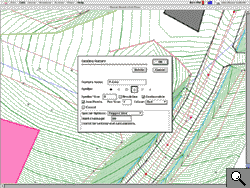 HighRoad's intelligent object design automatically maintains complex relationships in a network of intersecting roads. Each road automatically adjusts itself to match changes in other roads that it connects to. This extends not only to the obvious plan relationship but also the vertical grading of the roads, how they interconnect and the interaction between cut and fill batter slopes in an intersection.
HighRoad allows you the flexibility to override its decisions when necessary. However, the trial design it creates for you is remarkably good and a real time-saver.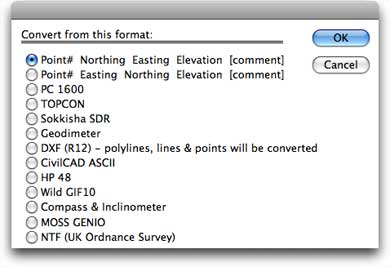 Use feature libraries developed from your previous work so that production of a complete terrain model happens automatically. Quickly select from your section libraries to design roads of a common type.
Produce results quickly with HighRoad's advanced output options. Interface with popular engineering applications or output visualisations of your designs.
Create high quality graphics or impressive three dimensional drive through simulations of your design. Simply specify the design speed and sight distance and HighRoad does the rest for you.
Below is an example of a drive through simulation movie created using HighRoad's visualisation tools, which are part of the Version 7 release - available soon. The example is small to minimise download time, but it still may take some time (1.39 Mb). If you don't have QuickTime software, get it free from Apple's web site.
HighRoad produces a full set of plan/profile drawings for you - automatically orienting each plan view to fit nicely on the drawing sheet. The drawing manager synchronises drawing production with design by establishing a drawing layout that is automatically updated throughout your design process.
When it comes to construction, HighRoad produces data sets for uploading to electronic data loggers so the work can be set out in the field. It also monitors progress of construction work including the change in earthworks volume, the work done and the amount of work remaining at each location. The familiar terms and visual tools for design make HighRoad ideal for earthmoving contractors who rarely have the opportunity to dedicate specialised staff to the operation of the software.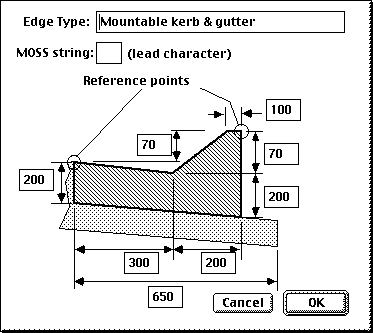 Available in Italian and Spanish (plus Kanji on Macintosh)
Switch instantly between English and another language
Use metric or imperial units
Currently used in 38 countries
Digital terrain model
Ground model information is read from floppy disks or CDs, across a network, direct from data loggers or from the keyboard. A variety of common formats can be used - points list, DXF, MOSS, CivilCAD, compass & clinometer, cross sections, and raw readings from a range of data loggers. HighRoad joins feature strings automatically according to a feature library.
Typical sections
Typical sections are easily designed using a range of kerb, pavement and batter types. These can be selected from a palette of tools in the typical sections window. Simply select the edge and pavement types from the palette of tools and then locate these in the required position on the screen. Cut and paste from a typical section library making the design of complex carriageways easier.
Horizontal alignment
The ease of designing both horizontal and vertical alignments is one of the most impressive features of HighRoad. Multiple horizontal alignments are quickly laid out on the terrain model using the mouse. The horizontal curves, including transitions, are automatically calculated and inserted as you drag the horizontal intersection points.
Intersections
Intelligent intersection design automatically calculates the geometry and grading of an intersection or cul-de-sac. This is done instantly when it is first created it and whenever any adjustment is made to the roads that make up the intersection. The intersection can be dragged along the main road, or drag the main road and the intersection will go with it. It even automatically calculates the interaction between batter slopes.
Profile
The ground profile of the alignment is plotted on screen at a range of scales and vertical exaggeration. Intersection points are positioned using the mouse and can be easily and quickly moved to optimize the design. Vertical curves of parabolic form are automatically inserted and this enables you to quickly position a trial grade line on screen.
Cross sections
Cross sections at any chainage can be instantly displayed. Look quickly through a series of cross sections by simply pressing a button to view the next or previous section. The format of cross sections can be easily changed.
Plan
HighRoad uses the information provided in the typical section, profile and horizontal alignment to produce the plan view. Any changes made will be immediately reflected in the plan. You can choose which aspects of the terrain model and roads to display in the plan view.
Quantities
HighRoad calculates earthworks quantities or a mass haul diagram and allows for the topsoil stripping and strata such as rock.
Drive through simulation and 3D views
Once your design is complete, view a three dimensional drive-through simulation of the road. Various parameters such as driver's eye height and sight distance are adjusted to provide a realistic simulation and to check stopping sight distance requirements.
Drawings and data exchange
Plots of profile, cross sections and plan can be produced on a variety of plotters and printers. Drawings can be saved in PICT or DXF format. Terrain and/or design data can be exported in 3D DXF, MOSS GENIO, CLIP III, CivilCAD ASCII, GDL, Quickdraw 3D, Quicktime, PICT and text formats.
System recommendations
Macintosh
Mac OS 9, Mac OS X

Windows
Windows XP, Vista, 07
Also runs on Windows 98, 2000 and NT 4.0
We believe that you are in the best position to assess the value of software for use in your business. Choosing a fair price means that your business can be profitable, and for out part that we receive a fair return to keep developing HighRoad so that it better meets the needs of you and our other users around the world.
This is how it works:
Apply for an evaluation key which will give you 30 days to make an evaluation and help you choose a fair price for you.
Download HighRoad and get started on some real design projects.
Come back to our site again within 30 days and apply for a full license and with your suggested price based on your circumstances.

Choose which fee is appropriate for your situation:
Enterprise: For big business and enterprise wide deployment we suggest you choose this option. The suggested investment is Euro 9900.00 or US$ 11500.
Corporate: This option for for small to medium size consulting offices where HighRoad is deployed usually in one office on multiple workstations. The suggested investment is Euro 3300.00 or US$ 3700.
Partnership: This option for for small consulting offices where HighRoad is deployed usually in one office on multiple workstations, but usually used by one road designer with regular road design projects. The suggested price is Euro 900.00 or US$ 1100.
Sole Trader: For a one man office, or similar small engineering office, where road design is not the mainstay of the business but occasional road design or site design projects are typical. The suggested price is Euro 120.00 or US$ 160 and you will be charged now to get the full activation key.
Evaluation and student, and eligible others: For those in this category there is no fee for the license. Choose this option and we will send you an activation key. For student use, the time period is 1 year, and for evaluation the time is for 1 month. Others may be eligible also. (eg third world countries).
You will be investing in your own success, for the ongoing development of HighRoad, so that as HighRoad improves, your efficency continues to improve.
Other Price: Perhaps you don't fit any of these descriptions. Please contact us for the price that you think is a fair price for using HighRoad in your situation.
Assistence. For 1 year direct assistance add 100.00 Euros or 120.00 US$ to the prices above.