Domus.Cad now twice as good!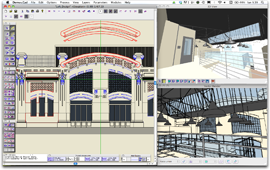 Domus.Cad Std: The essential for architects
Domus.Cad Pro: Design without compromise.


Geo-Tec B 7.1 is a program for verifying stratified slopes in the presence of water beds, loads and reinforced zones. It also calculates for seismic zones. Visit the Geo-Tec product page to see complete program info and download a free demo for Windows and Mac Os X.





Import, export, view and print DXF-DWG-DWF-DBF
Converts scaled fully configured PDF ready for printing
Others ...
DomusTerra is our low-cost land modeling application for architects, landscape architects, and anyone needing to model small pieces of land for architectural purposes.
To see a complete list of DomusTerra features please visit the Land Modeling product page.



They did it with Domus.Cad!